JEWISH EAST END OF LONDON PHOTO GALLERY & COMMENTARY

London's East End Synagogues, cemeteries and more......

My personal journey through the Jewish East End of London
People, places and more that have caught my attention in my travels round the Jewish East and West End of London...do you have something you would like to add to this page? e.mail:

Phil If you would you like me to take you on a private Jewish East End walking tour check out my tour page _______________________________________________________________________________

Altab Ali Park in Whitechapel occupies the site of St Mary church, that was bombed in 1940.

All that remains is the outline of the church picked out in the grass and a few graves...or that was what I thought until I visited Ham House, Ham, South West London. Walking round the gardens of this magnificent 17th century mansion I spotted a lead water tank with the following legend inscribed on it:

St Mary Whitechapel 1720, in memory of John Hinton, Churchwarden.

How did this end up in Ham house?

Lead water tank from St Mary church Whitechapel, dated 1720, now located at Ham House
in South West London

Altab Ali park, Whitechapel, once St Mary church, destroyed by bombing in 1940

---

You sometimes see weird and wonderful graffiti when travelling around London, but the Hebrew graffiti in the photo below has to be amongst the most unlikely you'll ever see. It's on the rear wall of Bevis Marks synagogue. Hebrew graffiti on Bevis Marks A correspondent from Israel has had a go translating this and the result is: Baruch Conitana?? Conitna?? 20th Day (of) …… was here! Which sounds like a variation on the 1930s expression Kilroy was here!

---

I spotted some unusual trading in Brick Lane recently: jack fruit being sold from the pavement. I wonder what they taste like? Jack fruit for sale, Brick Lane

---

Have you heard of 'The Policeman's Cloak Hook'? Neither had I until I cam across it in Great Newport Street on the corner with St Martin's Lane near Leicester Square. In the 1930s policeman on traffic duty would hang their cloaks on it in warm weather. Hope you like my photo of it below. You may also like to experience the view down Godwins Court - a gas lit curiosity.

| | |
| --- | --- |
| | |
| The Policeman's cloak hook is one of the stops on my Jewish walking tour of Soho | Above is a view down Godwins Court - part of my Jewish Soho tour |

---

You never know who you might meet an a walking tour...walking along Fournier Street recently two interesting gentleman allowed me to take their photograph - below:

The above are of course the artists Gilbert and George, residents of nearby Wilkes Street

---

The Whitechapel Bell Foundry. I was in Plumbers Row, adjacent to Fieldgate Street, recently when I saw that the door leading into their workshop was open and I was able to take the photo above. The foundry has made many famous bells including Big Ben and the Liberty Bell in Philadelphia. This ancient establishment was founded during the reign of Queen Elizabeth the first in 1570. While on the subject of the Bell Foundry, how odd to see a mezuzah on the door to their offices. It's located just below the number '34' in the photo below.
The foundry belonged to the Mears family, some of whom occupy the large impressive Victorian tomb in Highgate Cemetery, above.

The East End's most 'Jewish' church is most probably St Botolph without Aldgate, located next to Aldgate Tube station. Inside it is a stained glass window dedicated to London's Lord Mayor, Sir Marcus Samuel - inscription above and full size window right. Sir Marcus was born in Whitechapel and developed the family business of M Samuel (sellers of painted sea shells) into the merchant bank Hill Samuel and Shell Transport and trading, which itself developed into Shell Oil. Sir Marcus was awarded a peerage for putting his tanker fleet at the disposal of the Allies during World War One. The Samuel family were a major philanthropic influence in the Jewish East End, for example funding and giving their name to the Bearsted Memorial Hospital in Underwood Road, also known as 'Mother Levy's'...see photo right
.

Stained glass window in St Botolph without Aldgate dedicated to Sir Marcus Samuel, later Viscount Bearsted.

Mother Levy's maternity hospital, Underwood Road (demolished 2012),

1897 Queen Victoria celebratory Diamond Jubilee Bimah Cloth (reading desk cover) recently discovered in Sandys Row synagogue
An 1839 prayer book from Sandys Row synagogue, brought across from the Netherlands by it owner K Solomons some time in the C19th. Sandys Row synagogue was founded by Dutch Jews in 1854
K Solomons signature on the inside front cover of the her prayer book (left) - note her Dutch maiden name Vandervelde

If you've got it, flaunt it...in Brick Lane
Brick Lane Babe, how did you squeeze into that suit?
My friend Trevor of Sandys Row Synagogue outside his family chicken shop - the last Jewish owned chicken shop in Petticoat Lane (Leyden Street)
Trevor sells chickens fresh from the farm (and jolly good they are to)

I don't often come across Pearly Kings and Queens in Brick Lane, but then again, sometimes I do...
Hessel Street market from a 1930s print - now all gone - in its prime it was a Kosher chicken market..today it is a crumbling slum

Driving down the Bethnal Green Road recently, I spotted the wonderful Art Deco premises of A Frankle Trimmings at numbers 281 - 285 Bethnal Green Road. This fabulous building is the former Essoldo cinema, part of the Essoldo cinema chain that belonged to the Sheckman family. The head of the company, Solomon Sheckman, died in 1963. He and his brother Captain Mark Sheckman devoted time and money to several Jewish causes, especially the Jewish National Fund. The cinema closed in 1964 to become a bingo hall. This activity ceased in 1990 and the building is now used by Frankle Trimmings. Next time you are in the Bethnal Green Road take a look at it and enjoy.

I spotted this chap recently on a walk through Covent Garden to Jewish Soho. Perhaps this sleepy unicyclist was resting between engagements, as they say in the acting profession.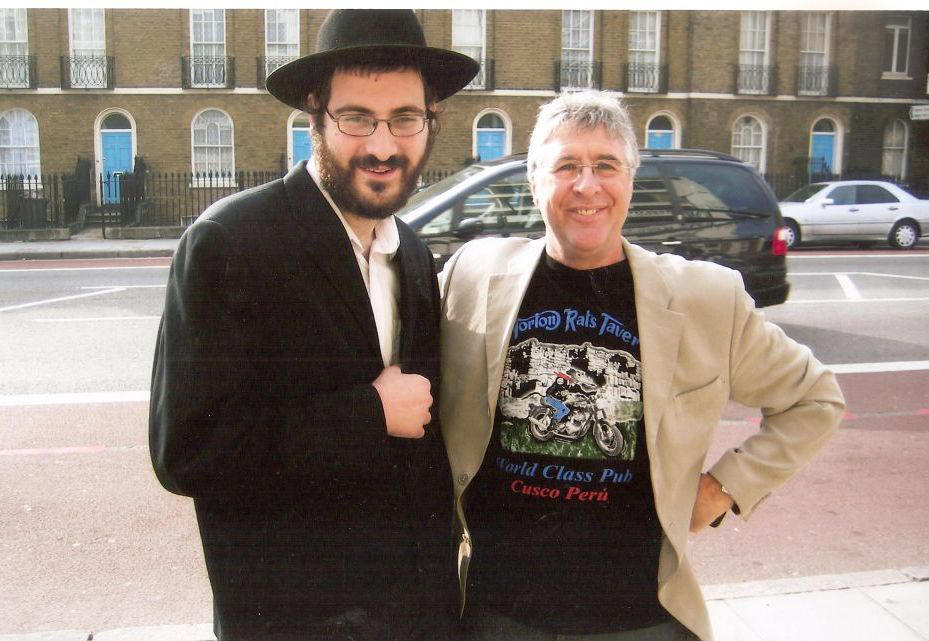 Phil and a very tall friend near Fieldgate Street, East End of London
website copyright of Philip Walker